Recognizing Handwritten Characters
Handwritten character recognition systems have several important application, such as zip-code recognition, writer identification for e.g. forensic research, searching in historical manuscripts, and others. For such applications, the system should be able to recognize handwritten characters written on many different kinds of documents, such as contemporary or historical manuscripts. The aim is to let the system automatically extract and recognize the characters that are embedded in the manuscript. The quality of the manuscript is one of the factors that can improve the recognition accuracy (Gupta et al., 2011). It is essential to deal with the different problems that occur in the manuscripts, such as distortions in a character image and the background noise that can appear during the scanning process. The aim of our work is to develop new algorithms that can obtain a high recognition accuracy.
| | | |
| --- | --- | --- |
| Thai character | Bangla (Bengali) character | Latin character |
| | | |
Some examples of the Thai, Bangla, and Latin handwritten scripts.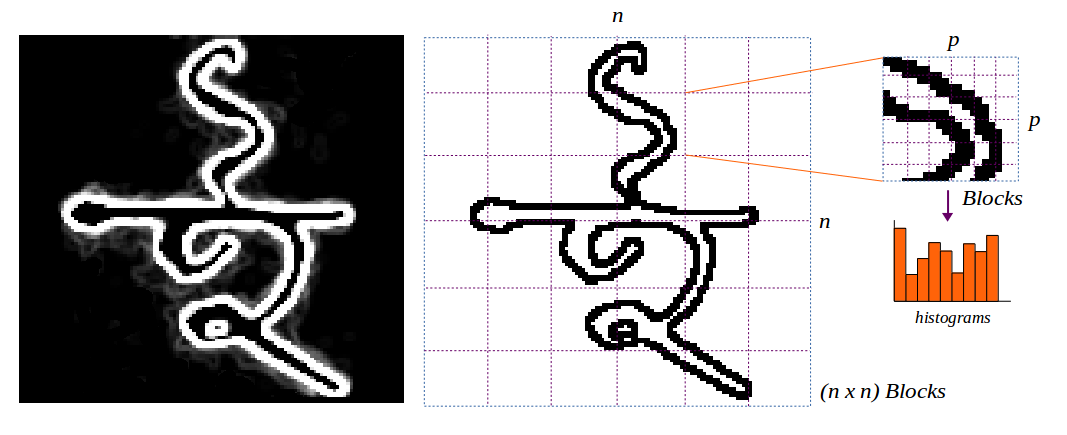 Histograms of Oriented Gradients (HOG)
O. Surinta, M.F. Karaaba, T.K. Mishra, L.R.B. Schomaker and M.A. Wiering, "Recognizing Handwritten Characters with Local Descriptors and Bags of Visual Words," in Engineering Applications of Neural Networks (EANN 2015), 2015 The 16th International Conference on, 2015, pp. xx-xx link slide pdf
O. Surinta, L.R.B. Schomaker, and M.A. Wiering, "A comparison of feature and pixel-based methods for recognizing handwritten Bangla digits," in Document Analysis and Recognition (ICDAR), 2013 International Conference on, 2013, pp. 165-169. link poster pdf